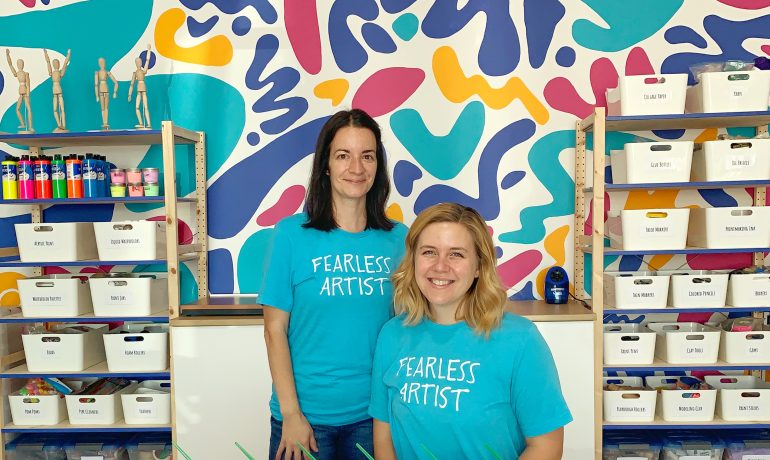 About Us
Ashley & Hannah met in graduate school at Teachers College, Columbia University. After becoming fast friends through their love of art education, they realized they made a great team professionally.  Through their experiences, Ashley and Hannah saw first hand how the arts can positively impact the culture of an entire community. Through pop up events, monthly classes at nearby Plaxall Gallery, and summer camps, they started dreaming of starting their own business as a way to bring art education to their community in their own way. They are ecstatic to see their dream become a reality with their first studio space now open in LIC.
About Ashley 
Ashley is from New Jersey and has been calling nearby Astoria home for the past 10 years. Her love of art started as a young girl taking art classes after school. After studying Art & Theatre at Lehigh University in PA, she was drawn to art education through a year-long internship at the Guggenheim as a Teaching Assistant at several city schools. After graduating from Teachers College, Ashley worked as the art teacher for Kindergarten, 1st grade and middle school at a local school in LIC. She loved introducing students to new materials, artists and techniques. She then became the Art Teacher at a small private school in Manhattan serving children with special needs. She worked with ages 3 – 10 and especially loved setting up process based and exploratory art and play stations that she loves bringing now into the studio! In her spare time she loves spending time with family, getting lost in a great book and working on DIY projects at home. 
About Hannah
Art has always been an empowering and driving force in Hannah's life. She grew up at the beaches in Delaware and she received her undergraduate degree in visual art from University of Delaware. After receiving her masters in Art Education from Teachers College, Hannah started a K-12 art program at a NYC public school in Manhattan where she worked for 5 years. She loves introducing new artists and materials to children of all ages. She loves painting and illustration and experimenting with new materials. Hannah also enjoys riding her bike around the city and trying new recipes in the kitchen. Hannah is really excited to continue to build a teen program at Art Strong focusing on portfolio development and technique.