The most memorable birthday parties
in Long Island City!
Choose a project for your art making activity.
Each child will bring home a work of art they love!
Projects include painting, sculpture, jewelry, sensory play, and more!
Birthday parties are booking quickly!
Email or call us to reserve your date.
Birthday parties at Art Strong are an unforgettable memory for your family, friends – especially the birthday child! We bring our special and unique art making processes into the party celebration. Each child will make a special art project with many opportunities for individual choices and expression. 
Choose from our list below of our all time favorite projects depending on age and interests. You can also speak with one of our Teaching Artists to create a customized party theme unique to your child! 
The party lasts 2 hours which includes a 45 minute guided art activity, time for collaborative art making as well as creative free play and ending with food and dessert provided by you. We will provide a clean and sanitary space to enjoy. You can arrive up to 30 minutes early to set up for your event. We take care of the rest!

Fill out the form below and we will be in touch!
Birthday Party Option # 1 : Sensory Play Party $649 (up to 10 children)
This party is perfect for the little ones! It includes 5 creative & sensory play stations. Stations may include water play, themed playdough, birthday sensory table, and one art project to take home! The party cost is for up to 10 children ($25 per additional child), two Art Strong party instructors, 1 hour and 30 minute party, and all clean up and disposal is included. A maximum of one caregiver or parent is required to stay with their child.

Ages 1-4 only
Maximum of 12 children 
Individual art project (mixed media wooden stars) for each child to make and take home
Variety of sensory based play and art activities perfect for the little ones to explore carefully curated by Art Strong instructors to cater to a wide variety and interests and abilities!
A personalized birthday banner for everyone to decorate


Art Strong shirt for the birthday child! 

Do you have older children that may attend? Reach out for customization options at an additional cost. 
Look below for add ons to make your party extra special!
Birthday Party Option # 2 : Awesome Art Party $699 (up to 10 children)
Our Awesome Art Party is perfect for children turning 4 and up! Each child will create their own unique art project to take home that they will LOVE! The party cost is for up to 10 children ($25 per additional child), two Art Strong party instructors, 2 hour use of the space, and all clean up and disposal is included. 
Ages  4+
Maximum of 25 children (Additional staff member is needed ($100 fee) should your headcount exceed 17 children)
Choose from 5 project options below of some of our all time favorite art activities for kids. This project will be guided by an Art Strong instructor, uses high quality art materials, and will be something all the kids will be excited to take home!

Includes 1 added activity table. Choices include: playdough table or a watercolor and oil pastels station. This activity is available time permitting.

A personalized birthday banner for party guests to decorate.

One Art Strong tee for the birthday child. 

Does your child have a specific theme or idea in mind (volcanoes, unicorns, animals, etc)? Email us to talk more about your options.


Choose from add ons below like face painting and art favors to make your party extra special!
Sample Birthday Party Projects
Sample projects for ages 5+ :
Canvas paintings :

Choose from unicorn, star, or dinosaur theme painted and decorated canvases. Customize with a different theme based on your child's interests.

 

Play Houses:

Create your own magical play house with paint and decorations. Design a peg doll person to live in your house!

 Clay Sweets:

Sculpt your favorite sweets out of model magic, paint and decorate a box to carry them home!

Wooden Figurines:

Create, paint and embellish a character using a 3D adjustable wooden figurine (extra $5 per child)

Pendant Necklaces:

Choose from a heart, circle or star wooden pendant, add beads, decorate a special jewelry box to complete it!

Custom art project! For an extra fee we can work with you to customize a project based on the birthday child's interests! Email us at info@artstrongnyc.com to learn more.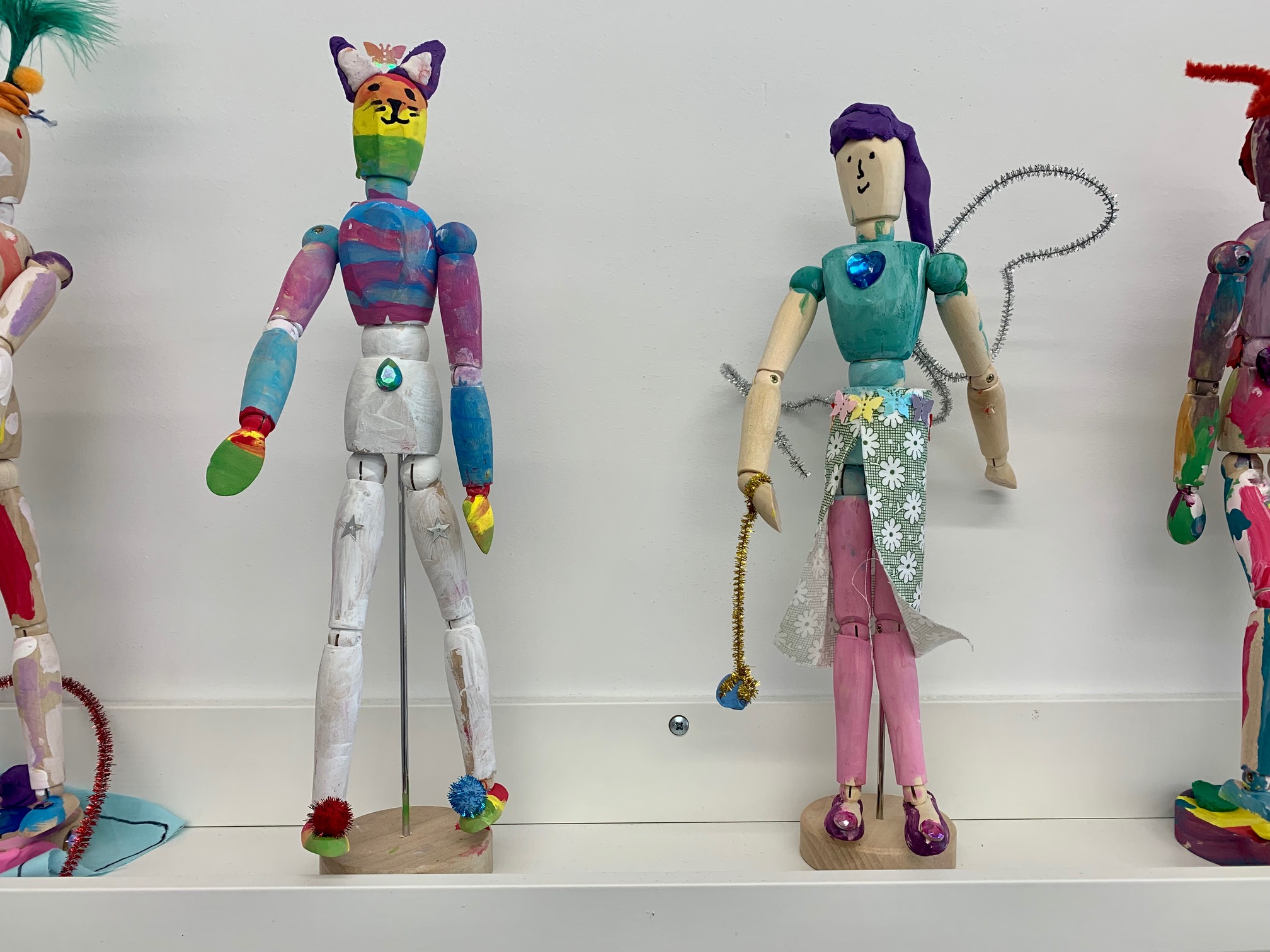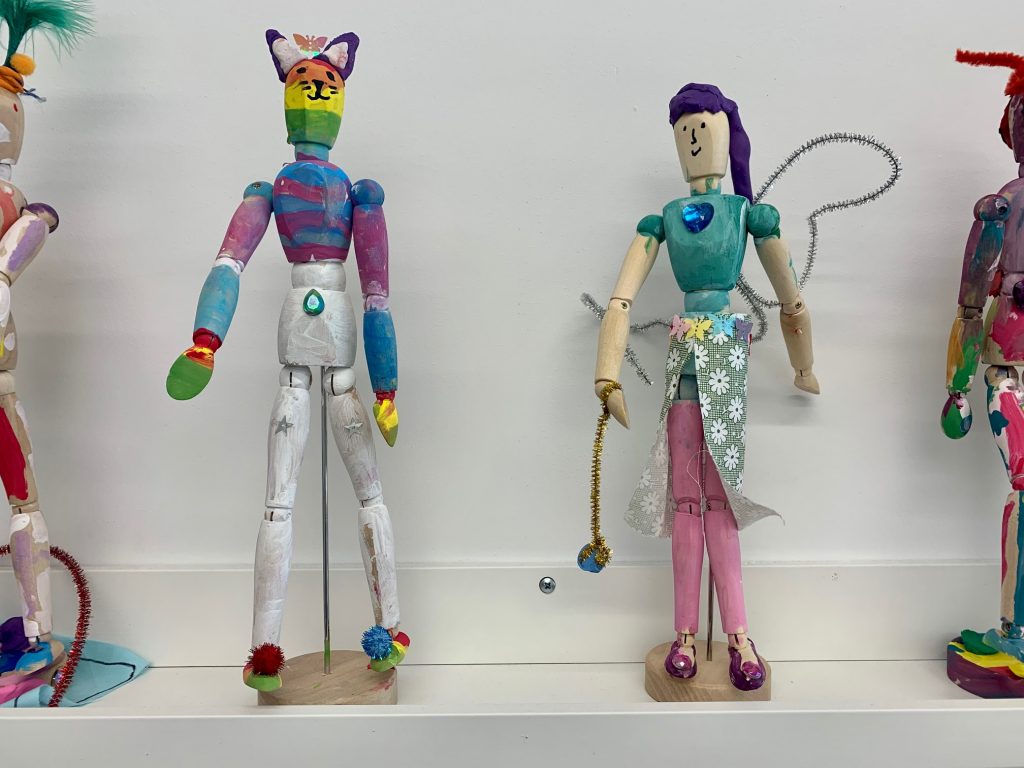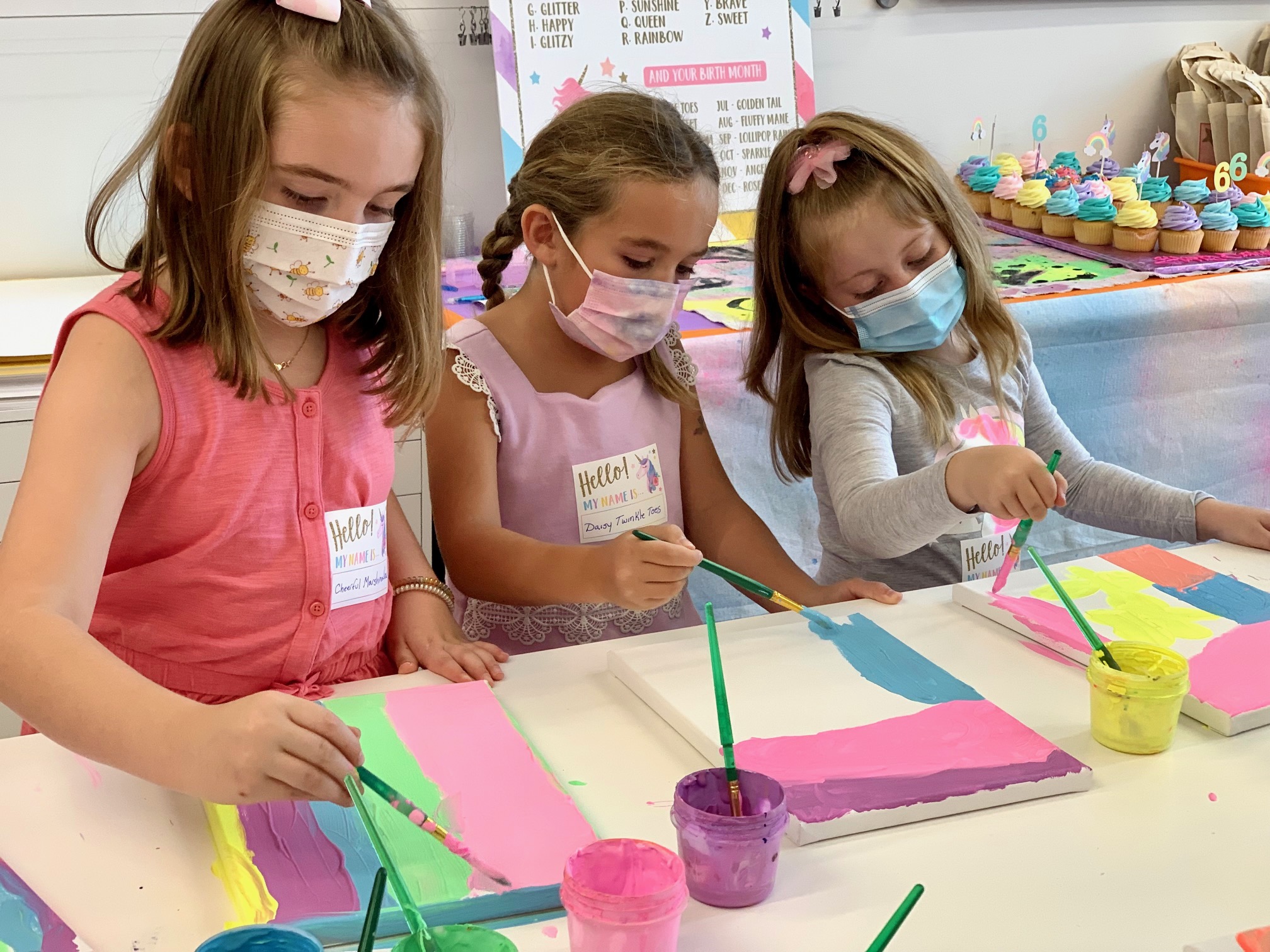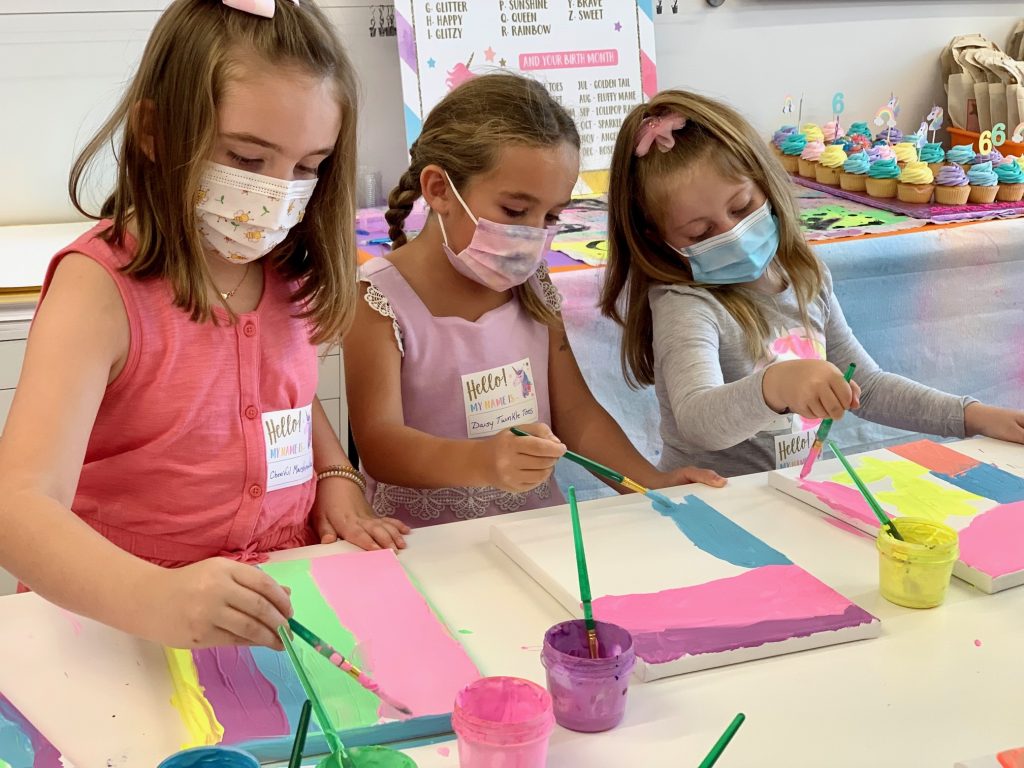 **Contact us using the form below or email us at info@artstrongnyc.com to learn more about our party add ons!**
Customized art project ( starting at $100 )
Face painting ($225 for 1 hr)

TieDye tee for each child to make and take home ($18 per child including Fearless Artist tee)

Art Supply Party Favors ($10 basic per child // $15 deluxe per child)

Extra art table/ sensory bin ($75)


Personalized denim apron for the bday child ($30)

Extra time in the studio ($100 for 30 mins/ $175 for 1 hour)
Contact us about your party!
Interested in a birthday party (or any type of party) at Art Strong? Fill out the form below and we will get back to you ASAP to discuss! Just let us know some basic information about the party you want to host – and don't worry if you don't have all the information yet, this is just some preliminary information to help us get started with planning, so you can leave anything blank that you're unsure of.
Frequently Asked Questions
How long do art activities last?
Art activities last 45 minutes. 
Where are your birthday parties held?
Art Strong birthday parties are held at our studio at 43-67 11th St, Long Island City NY, 11101
Do all participants need to be at the party before the art activity can begin?
It is best if all participants can be making art together. That way, they won't miss any steps of the projects. We have found that it is best to start the art activity 15 minutes into the party.
Do you supply decorations?
Our studio is a beautiful backdrop for your party! You are welcome to bring your own decorations and can enter the space up to 30 minutes prior to your party to decorate.
My child has a specific idea for their project. Would that be possible?
We can try our best! Give us a call/email so we can learn more about what they are dreaming of and we can brainstorm project ideas to make it happen. There is an additional fee for custom projects depending on material and prep costs.
Is drop off allowed? 
Drop off is highly encouraged for all parties with children ages 5 and up. Parties of children ages 4 and under require 1 parent or caregiver to be present. 
What days and times can I have my party?
Parties are reserved for Saturdays from 11am – 1pm or 2pm-4pm. Select Sundays are also available. If you are interested in a different day or time reach out to us and we will do our best to make it work!
Is there a deposit required to book my party?
Yes.  You are required to pay a $150 non-refundable party deposit to book your party and save your date.  This will go towards your final party cost.
When is the final payment due?
Final payment is due 1 week prior to your party date. Late payments incur a $25 late fee.
What if I don't know my exact head count?
We plan super special art activities and projects that we plan in advance of your party so knowing your head count is imperative to a successful event! We need to know your head count 7 days before your party date. At that time any "maybes" should be included in your total head count.